Looking At Training Differently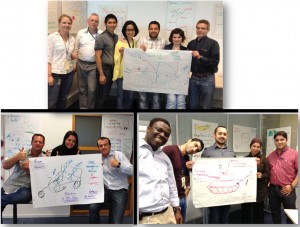 Training Trainers is not just part of what we do.
Training trainers is WHAT we do 100% of the time.
Your team will take away practical, ready to use training tools and techniques that they can incorporate into their very next workshop taking it from Good to Great and get rave reviews.
Why Should Your Team Experience This Workshop?
The team feel that they have difficult learners that don't buy-in to the process.
Too much content and not enough time.
The team need new, learner centred workshop openings, closings, review techniques, interactive ideas etc.
The team inflict 'Death by PowerPoint' upon their learners because they feel it's the only way to cover dull, dry, boring content.
The team use a lot of interactivity but when faced with the comment 'That's just fluffy nonsense, just give me the facts' they don't have the scientific research to back up what you instinctively know works.
Transform your organisations training with new ideas, techniques and tools that can be applied immediately into the very next workshop. Uncover the secrets of creating fun, interactive, learner centered workshops that really make learning stick.
Create powerful new openings.
Cut preparation time by up to 50%.
You Use a seven-step process to transform your current workshops into high impact learner-centered workshops.
Apply the latest adult learning research to your design and delivery.
Tools and techniques to bring even your driest material to life.
Transform systems training making it fun, engaging and participative.
Expect Your Team To Take Away
Practical, ready to use ideas and techniques to make their next workshop a well-planned, learner centred and memorable experience, ensuring that learners leave feeling they have achieved their goals, that the learning was valuable and complete and that they are ready to implement their new learning immediately. These ideas and techniques will turn them from being the 'sage on the stage to the guide on the side'.
Objectives
Create workshop openings that bring learners into the learning environment, connects learners to one another and to content.
Create performance based learning objectives that contain a Task, Condition and Standard that can be applied to each of your own modules and workshops
Create totally learner centred training modules that ensures 80% of the module time is within the practise phase and includes all phases of the 4P's model.
Maximise the potential for learning when designing your next workshop based upon how the brain learns according to the world of neuroscience.
Create captivating closes for your workshops where learners experience how much they have learned, celebrated their achievements and have measurable action plans and a commitment to implement new learning.
Here's Just Some Of What Your Team Could Discover
How to create powerful workshop openings. Take away the 3 vital elements that must be present for each and every opening – plus 15 opening that you can use in your next workshops.
How to maximise learning potential. Turn recent research from the world of Cognitive Science into practical practices you can apply to each and every one of your workshops.
Why it's vital we add movement
How to keep your learners ready to learn.
The science behind 'why you should never input for more than 7-minutes at any one time'. And of course, the practical techniques to ensure you never fall into this trap.
How to increase retention by up to 34%. Take away techniques so that you can tap into some or all of this 34%.
How to create a memorable open and close and why these two parts of your workshop are so important.
How to add variety and 37 ways of doing it.
The Number 1 factor in transfer of learning into the workplace.
How to move from Death by PowerPoint or Lecture to a totally learner centred workshop.
A seven-step process to transform your current workshops into high impact learner-centred workshops.
How to cut your preparation time by 50% (or more) with a great 4 stage content design model that guarantees 70% or more of each piece of content is firmly placed with your learner while you take a back seat to the learning process.
How to turn hot and spicy learners into raving fans.
A new and inspired you
Plus, why the theory of learning styles is outdated.
Typical Duration
3 days