Que faisons-nous pour gérer les états d'apprentissage de nos apprenants ? N'attendez pas que vos apprenants soient dans un état négatif à l'apprentissage pour réagir et mettre en place les « déclencheurs positifs » ! Gérez plutôt leurs humeurs passagères pour éviter des comportements négatifs et des situations difficiles.
« Capsule vidéo – Les états d'apprentissage »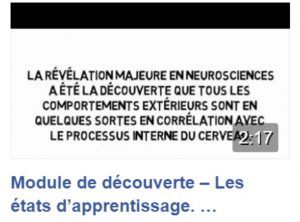 Me contacter
Directement dans l'espace commentaire ci-dessous
Sur twitter @eurekafrance
Sur Facebook
Sur LinkedIn
Liens, Ressources, Références de l'épisode
Recherche & lecture : Csikszentmihalyi, M – 'Flow: The Psychology of Optimal Experience' New York Harper & Row 1990
Lecture : Teaching with the Brain in Mind, Revised 2nd Edition par Eric Jensen
Vidéo : https://www.facebook.com/Eurekafrance/videos/541861752594443/
Eureka Podcast : Tous les autres Podcasts sur la formation – Eureka !
Les RDV Eureka avec Christophe
Retrouver toutes les formations animées par Christophe en présentiel ou en ligne – C'est par là !