Description
Design Frame 1 – Ask The Expert
Ideal for:
New product releases.
Legislation Updates, New Legislation, New Policies, Compliance.
Replace a guest speaker who knows their content but not great at presenting eg as part of an Induction/Orientation training.
Dull or Boring content.
Duration of this training episode:
60-90 minutes.  Depending upon your content.  The structure has been created for a 60-minutes live virtual training but can easily be adjusted if you feel your training requires 75 or 90-minutes.
What's Included: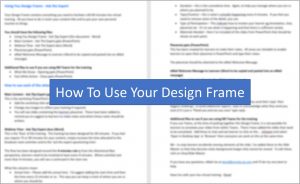 How to use your Design Frame
Step-by-Step guide showing you how to use each part of your Design Frame.
Format – .pdf.
Number of pages 2.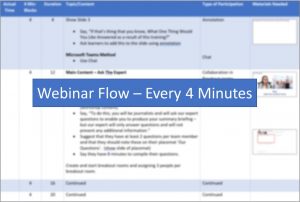 How to facilitate your training
How to facilitate your training broken down into 4-minute pieces.
Images of which slides to show at each stage.
Detailed information on how to use the opening, the main activity and the close.
Format – MS Word (so that you can add your own personality to the design).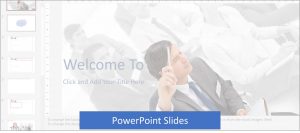 Ready-made slides

All the slides you need to facilitate your live virtual training episode.
Customisable to add your own images if you prefer and to add your organisations logo.
Separate interactive slides for MS Teams users.
Format – PowerPoint.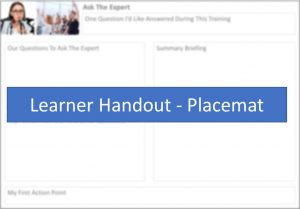 Learners handout
Placemat (handout) for learners to make their notes during their training.  Specific placeholder areas for their different types of notes.  Works as a great summary reminder of content once their training has finished.
Format – PowerPoint (so that learner can print their handout or work on it directly within PowerPoint.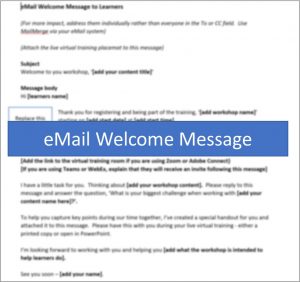 Welcome Message and Task
Template 'Welcome' message to send to learner prior to the start of their training to help build that all important rapport.
A simple task for learners to complete prior to their training to get their brain thinking about the upcoming content.
Format – Word (to enable you to amend then copy into your own eMail message).